'One Size Doesn't Fit All' - Daramic Featured in 17 Asian Battery Conference Show Guide
August 28th, 2017
Charlotte, NC - Daramic, LLC (http://www.daramic .com), the world's leading manufacturer of high performance polyethylene (PE) battery separators for lead-acid batteries, is featured in the 2017 Asian Battery Conference (ABC) show guide, which previews the region's largest battery conference taking place September 19-22 in Kuala Lumpur, Malaysia.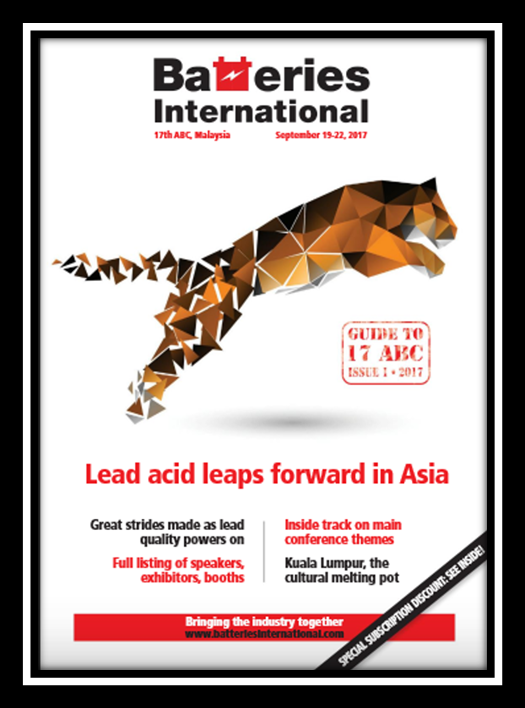 The show guide from Battery International highlights the theme of this year's show, 'One Size Doesn't Fit All'. The theme also reflects Daramic's strategy in Asia, which seeks to exploit the ever growing need to serve the Asian battery market with specific product solutions while also providing in region manufacturing and distribution capabilities.
The interview with Dawn Heng, Global Strategic Marketing Director, focused on Daramic's focus in the region. He says, "We want to share out latest technology and product to the battery partners in Asia to help them to improve the performance and we also want to hear their special challenges and needs – we don't think we can just copy and paste from mature markets like the US and Europe! With the complexity of the lead-acid battery and separator, one size can't be a fit for all. "
He goes on to say, "Daramic, is the only global battery separator manufacturer with local production capability to cover all key countries in Asia. Since entered the region in 2000, Daramic has had many firsts in Asia - the first to build a PE separator manufacturing plant in Asia (Thailand), the first to launch an Asia Technical Centre with providing local R&D in Asia. and recently, the first to build the full PE separator manufacturing facility in India"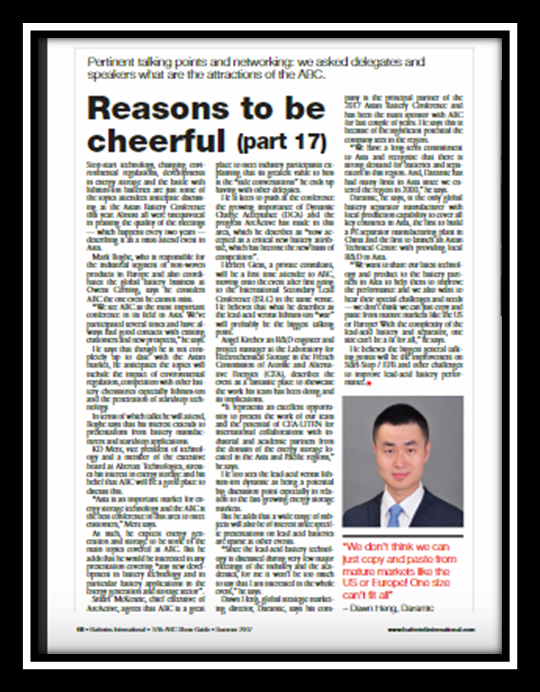 As strong demand continues in Asia, Daramic has recognized that it is important to manufacture in region, but it is more important to have dedicated R&D, product, technical service experts working in region in order to deliver solutions that fit specific regional needs.
Key innovations in Enhanced Flooded Battery (EFB) will be shared among the thousands attending this year's event. These new Daramic solutions address the needs of the start-stop market including problems of voltage drop, acid stratification, and dynamic charge acceptance.
To learn more about how Daramic is serving Asia, please stop by Booth 75 and 87 at 17 ABC September 19-22.
To read the 2017 ABC show guide, please visit: https://issuu.com/rizzo48/docs/abc2017.issuu1.2
About Daramic, LLC
Daramic, LLC, an Asahi Kasei Group company, is the world's leading manufacturer of battery separators for automotive, industrial, and specialty applications where today they supply high performance polyethylene and phenolic resin battery separators into the lead-acid battery industry. As the inventor of polyethylene separator, Daramic has led the way in developing innovative technology for the global lead-acid battery industry over 85 years. See www.daramic.com.