Daramic, global leader in battery separator manufacturing, highlights Asia footprint at biannual Asian Battery Conference (ABC)
January 15th, 2018
Charlotte, NC - Daramic, LLC (http://www.daramic .com), the world's leading manufacturer of high performance polyethylene (PE) battery separators for lead-acid batteries, showcased it's industry leading footprint in Asia at the 17th Asian Battery Conference in Kuala Lumpur, Malaysia.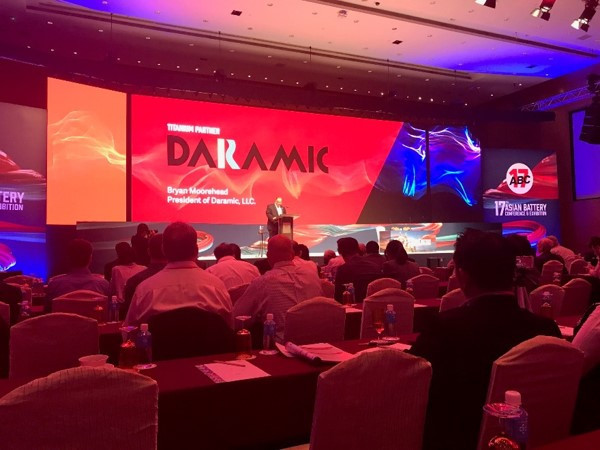 Daramic, the leading show sponsor, shared with the lead-acid community progress the company has made over the past decade in understanding local needs, providing impactful products, and reliably delivering solutions through six regional manufacturing facilities.
As co-chairman of the ABC organizing committee, Bryan Moorehead, President of Daramic, gave the conference's opening address where he shared the lead-acid industry's positive progress and outlook for the future. He noted the acceleration of industry innovation in addressing new market needs as the key driver for success over the next 5-10 years. Additionally, his report recognized Asia as a strategic growth opportunity for the industry. He highlighted Daramic's localized strategy to provide new innovative battery solutions, while also providing regional manufacturing and distribution capabilities. In conclusion, Moorehead formally announced Daramic's investment, over the next 3 years, in increasing Asian production capacity at Tianjin, China, Prachinburi, Thailand, and Gujarat, India facilities.
Joerg Deiters, PH. D, European Technical Director, gave a technical paper showing Daramic's latest innovations in Enhanced Flooded Batteries. The presentation keyed upon the needs and Daramic solutions to problems of voltage drop, acid stratification, and dynamic charge acceptance in start-stop applications. Solutions highlighted included, Daramic® EFS™, a separator that reduces potential of falling below minimum voltage levels through lower electrical resistance and Daramic® RipTide™ , which provides passive acid mixing of the electrolyte to combat stratification. He concluded by sharing research of a novel carbon coated separator, designed to improve dynamic charge acceptance inside a flooded lead-acid battery.
Dawn Heng, Director of Global Marketing, noted, "It was very exciting to see the energy and innovation of the lead acid industry at this year's show. Daramic was proud to showcase our long term commitment in Asia and we will strive to support the growth of the market through advanced product solutions and customer centric approach. Daramic is a pioneer of the lead-acid industry and we are now reinventing our own technology to lead lead-acid into a new era of prosperous growth in Asia and beyond."
The conference featured presentations highlighting the state of the industry, trends, and new product developments. Over 850 delegates, across 52 countries attended the event, making it one of the industry's largest.
To learn more about the show, please visit: http://asianbatteryconference.com/
About Daramic, LLC
Daramic, LLC, an Asahi Kasei Group company, is the world's leading manufacturer of battery separators for automotive, industrial, and specialty applications where today they supply high performance polyethylene and phenolic resin battery separators into the lead-acid battery industry. As the inventor of polyethylene separator, Daramic has led the way in developing innovative technology for the global lead-acid battery industry over 85 years. See www.daramic.com.