DARAMIC FEATURED AS PRINCIPAL PARTNER AT 19ABC
November 18th, 2021
Charlotte, NC - Daramic, LLC (http://www.daramic .com), the world's leading manufacturer of high performance polyethylene (PE) battery separators for lead-acid batteries, highlighted it's footprint, industry focus, and commitment to the region as the principal partner of the 19th Asian Battery Conference & Exhibition (November 3 - 5, 2021).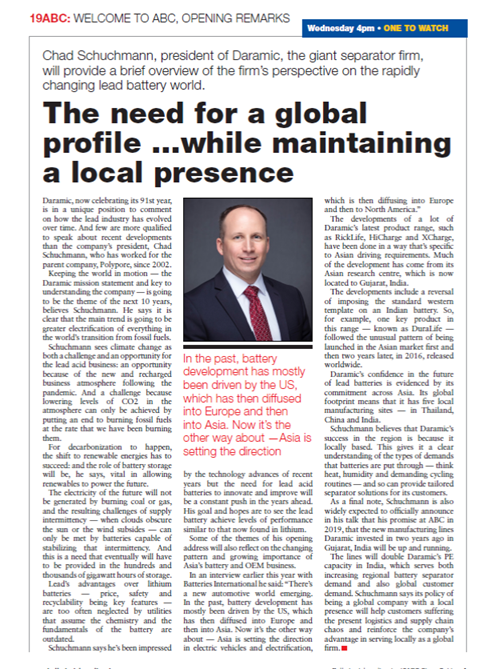 The virtual 19th Asian Battery Conference & Exhibition featured over 300 attendees and more than 40 presentations over 3 days. The show is widely considered Asia's # 1 lead-acid battery event.
Chad Schuchmann, Daramic President, gave introductory remarks to the participants, which featured a positive industry outlook centered on the importance of lead-acid batteries in helping to solve global challenges such as the COVID-19 pandemic. Mr. Schuchmann stated, "We have confidence in a strong lead-acid battery market, driven by global vehicle populations, increase electrical needs for our society, and a growing list of technologies and application that are best suited for a high performance lead-acid batteries."
With 5 manufacturing facilities and operations across 4 countries in Asia, Daramic is committed to Asia as a hub to serve regional customers and partners across the industry. Schuchmann went on to highlight the company's regional philosophy, "…to best serve our customers, we must be near our customers". Daramic continues to regionally invest in infrastructure, innovation, people and the lead-acid battery industry.
The event also included a virtual booth, where Daramic highlighted important regional solutions including:
DuraLife (commercially available) demonstrated reduced grid corrosion and enhancement of life for SLI batteries
EFS and RipTide (commercially available) was developed to improve Enhanced Flooded Battery power and acid stratification
To learn more about the show, please visit: https://asianbatteryconference.com/
About Daramic, LLC

Daramic, LLC, an Asahi Kasei Group company, is the world's leading manufacturer of battery separators for automotive, industrial, and specialty applications where today they supply high performance polyethylene and phenolic resin battery separators into the lead-acid battery industry. As the inventor of polyethylene separator, Daramic has led the way in developing innovative technology for the global lead-acid battery industry for 90 years. See www.daramic.com.